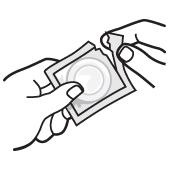 Tear along one side of the foil making sure that you do not damage the condom with sharp fingernails or jewellery as you squeeze the condom out.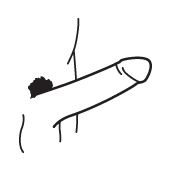 Put the condom on when the penis is erect, but before contact with your partner as fluid is often released in the early stages of an erection. This can contain sperm and organisms that can transmit infections.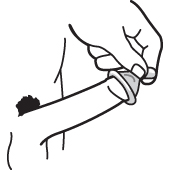 Hold the condom teat between the thumb and finger making sure the condom is the right way for unrolling. This expels air from the teat, trapped air in the teat can cause the condom to burst.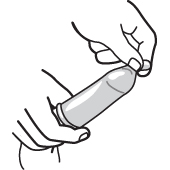 Using your other hand unroll the condom down the length of the penis, while still holding the teat. Make sure the condom stays in place during sex. If the condom should come off then open a new condom and put it on before continuing sex.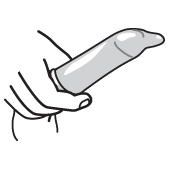 After ejaculation make sure you hold the base of the condom in place as you withdraw, only when the penis is completely withdrawn can you remove the condom. Make sure you keep the penis and used condom away from the vagina and anus.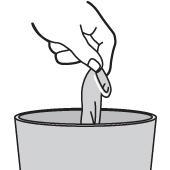 After use make sure you dispose of the condom hygienically, wrap it in a tissue and place it in a waste bin. Do not flush it down the toilet.
Do
Use water based lubricant ('lube') on the outside of the condom to increase sensation, stop condoms drying out and rolling off during sex.
Practice using condoms so that you know what you're doing; maybe try one out when you masturbate.
Check that the condoms have the BSI or CE kitemark on the pack (this says they have been tested to a high standard).
Check the expiry date.
Never
Never use a condom more than once.
Never use more than one condom at a time.
Never use anything like baby oil, Vaseline or massage oil with a condom because oil-based products cause the condoms to weaken and split.
Never turn a condom over if you realise that you started to put it on the wrong way. Always use a new condom.
Never use an out of date condom.
Find where to get FREE condoms