It's not just someone hitting you. It can be emotional, sexual, or financial as well as physical. Some people can be in an abusive relationship without even realising,
How can you tell if it's happening to you?
Emotional abuse can be…
constantly putting a person down
constantly checking where someone is
stopping someone from seeing their friends or family
stopping someone from having a job
Sexual abuse can be…
feeling pressurised to do sexual things
being forced to have sex when you don't want to
Financial abuse can be…
not giving them any money
checking what someone spends money on
stopping them from working
taking all their money from them
Physical abuse can be…
hitting, pushing, kicking, pinching
throwing or smashing things
making threats to hurt someone
Abuse in a relationship is never OK. It can destroy your self-confidence, have a negative impact on your health and wellbeing and leave you feeling isolated and lonely. Everyone deserves to be treated with respect.
Being in an abusive relationship does not make you feel good or loved. It can make you feel unhappy, worthless, unsafe and anxious.
In a confidential survey by the NSPCC of over 1300 young people aged 13-17, one in four girls reported physical partner violence and one in three girls reported some form of sexual partner violence.
So is it just girls or those in male/female relationships who suffer relationship abuse?
The answer is no. Relationship abuse can happen to anyone. However, girls do tend to experience physical, emotional and sexual partner violence more frequently than boys, and report more severe abuse. More girls report that it has a highly negative impact on their confidence and wellbeing, while some boys describe it as just messing around and say it makes them annoyed rather than unhappy.
Domestic violence (DV)
The abuse may not be happening to you. Sometimes it happens at home between parents/carers or other family members. Seeing or hearing someone in your family being hit or abused by another family member, relative or friend can make you feel really bad and helpless. If this is happening in your family, remember that it's not your fault. Everyone has the right to be and feel safe.
We asked some young people in SW London what messages they had about relationship abuse and domestic violence for other young people. This is what they said: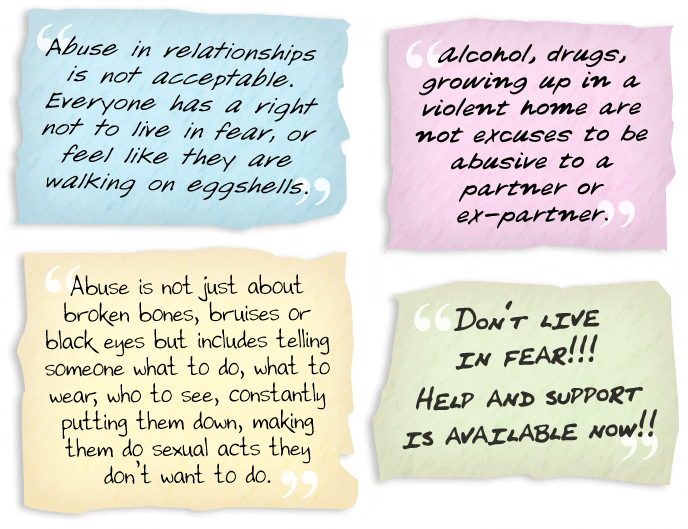 Visit these links to find out more about relationship abuse and domestic violence and what to do if it is happening to you:
Visit these links to go to websites for adults experiencing DV: