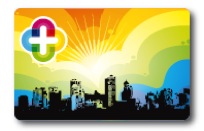 If you're aged 13-24 and live in the London Borough of Richmond upon Thames, you can pick up free condoms with a C-Card. All you need to do is register with a trained professional who will show you how to use a condom, and give you the opportunity to talk about any questions you might have about your sexual health.
Remember, all sessions are fully confidential*, so you can talk about anything you want! Plus you don't have to give your real name or contact details, so if you want to remain anonymous, you can.
Once you've signed up, if you're aged 13-15, you can come back with your C-Card to collect condoms 4 times, and if you're 16-24 you can come back 8 times before you'll need to have a quick review. Once you've had a quick review you can continue getting free condoms with your card. Just show your card at any of the sites listed here and you'll be issued with more condoms.
(*Confidentiality will only be broken under very exceptional circumstances e.g. if, in our professional judgement, we perceive a risk of abuse or harm to oneself or others.)