Find services near you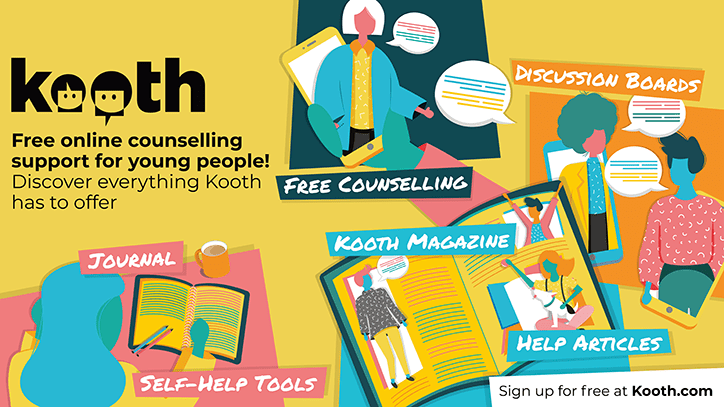 Kooth – your online wellbeing community
Due to COVID-19 (Coronavirus) developments in the UK, most walk-in sexual health clinics, and other non-appointment or non-urgent open access services for young people in your borough, will be affected. Read more
You will be directed to call the service first or go online, for example, to use online STI testing. Please check on the relevant local service webpages for details before visiting any service.
Do not attend any health service if you suspect you have Coronavirus. Please check the latest NHS information and advice at www.nhs.uk/coronavirus. This includes information about using the NHS 111 service if your need is urgent.
Off The Record (Richmond)
2 Church Street
Twickenham
TW1 3NJ
Telephone: 020 8744 1644
Main Contact: Deborah Kerpner
Info:
If you're not sure where to go with any kind of problem Off the Record can help. This walk in service is FREE and confidential.
You can drop-in on your own or with friends or phone on the number below. Usually someone can see you straight away (see opening times) but if we are busy we may ask you to wait or come back later.
You can:
Come to talk if you are having a crises about anything and don't know where else to go
Call in to look through our leaflets
Bring a friend who you think may need some help
We can help by giving information and are happy to talk about anything that might be bothering you.
We can talk to you about sexual health or relationship problems (but we can't give contraceptive advice or the pill - come to Monday's clinic.
If we can't help we'll try to suggest where else to go.
Services:
Sexual Health
Free Condoms
Chlamydia Screening
Advice
Relationship / Domestic Abuse
Sexual Assault Advice, Help and Information
Contraception
Free Pregnancy Testing
Advice
Pregnancy
Emotional Health and Wellbeing
Counselling
Information and Advice
LGBTQ - Lesbian / Gay / Bisexual / Transgender / Questioning
Mental Health Services
Relationship / Domestic Abuse
Sexual Assault Advice, Help and Information
Young Parents Services
Youth Services
Opening Hours:
| | |
| --- | --- |
| Monday: | 3:00pm - 5:00pm |
| Tuesday: | 2:00pm to 8:00pm |
| Wednesday: | 3:30pm to 8:00pm |
| Thursday: | 3:30pm to 8:00pm |
| Friday: | 2:30pm to 6:30pm |
| Saturday: | 10:00am to 2:00pm |
| Notes: | Sexual health walk-in clinic - Monday 3.00pm - 5.00pm |
Please note: The website is not checked on a daily basis. Some service details may not reflect real time / last minute changes. If in doubt, please call or email the service directly before travelling to avoid disappointment.
Directions:
Bus Routes 281, R70, 290, 267, R68, 33
Church Street is off King Street - Twickenham's main street; it is at the far end opposite the Church.